Submit a Work Order
CASet fields numerous and varied requests for assistance each day. To help us respond as effectively as possible, we ask that you submit a workorder when requesting assistance. To do this, select the appropriate link from among those listed below, and simply fill out the form that follows.
Please note: In many cases, campus wide IT problems may in fact be the cause of your individual problems, particularly in these areas: email, network connectivity, HOD issues, InfoSource problems, UBFS issues, VoIP issues. If you are experiencing difficulties in one of these areas, it will often be useful for you to first consult the CIT Alerts page, http://www.buffalo.edu/content/www/ubit/news/alerts.html/ before submitting a work order to CASet. The Alerts page lists current or anticipated outages, their symptoms and anticipated resolution times.
---
General Computing Support
Use this for most requests, regardless of your school or department or your location on campus. Typical requests involve software installation; setting up new computers and other hardware; troubleshooting malfunctioning software, hardware and peripherals; computer upgrades; and connectivity issues. Also use this if you are not sure if any of the other categories below are appropriate. Please note: Due to a sharp increase in spam submissions to the work order system you must now sign in with your UBit name and password to submit a support request.
---
CDS Clinic Support Request
Use this queue for all requests from the CDS Speech, Language, and Hearing Clinic.
---
ESRI e-Learning (formerly Virtual Campus Course) Registration
Use this to request access to any of the ESRI e-Learning resources (Virtual Courses) provided by our site license.
---
Park 450 (CASSAL) Door Lock Access Request
Use this form to request access to special facilities within the College–for example, CASSAL in Park 450.
---
Park 450 (CASSAL) Room Reservation Request
Use this queue to reserve Park 450 (CASSAL).
---
Orders and Quotes Support Request
If you are a faculty or staff member and require assistance with quotes and/or ordering of computing hardware or software for institutional use (not personal purchases), please use this submission form.
---
Download Splashtop SOS for your system:
Mac
Windows
---
Website Maintenance and Updates
Use this to request changes and additions to the content of the CASet supported websites; to note usability/accessibility problems with the site, to report functional errors or bugs, and to request or suggest new features or functionality for the site.
---
CAS Communications Request Form
The College of Arts and Sciences Communications Team provides print and design support to all faculty and staff working on departmental projects. For brochures, newsletters, posters, and more, submit the form and find out how we can serve your specific needs.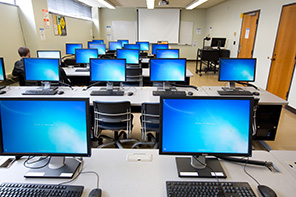 UBit Services Status